Google has released a web version of its Grasshopper app, a tool which teaches basic coding skills.
Grasshopper was first developed in Google's experimental workshop called Area 120 and initially launched in 2018 as a mobile app for Android and iOS devices. According to Google, millions of people have since downloaded Grasshopper.
In a blog post, an account is given of Sheila Eichenberger; a mother who left a successful career to raise her kids and is now returning to the workplace. Eichenberger used Grasshopper to help start her on a new path towards becoming a coder.
Many people – I'd even say most, albeit without actual research to back my claim – prefer to code on a computer. Having a web version of Grasshopper available will make it more accessible to those of us who prefer a full-size keyboard and larger display.
Google is making the most of the extra space a desktop provides. Grasshopper on the web adopts a three-panel UI with instructions on the left, code in the middle, and a device preview on the right.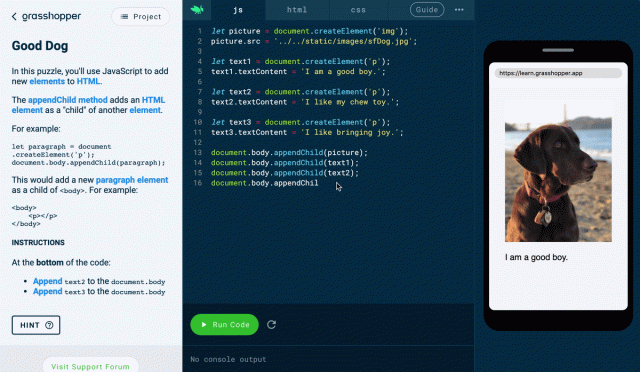 In addition to the original 'fundamentals' class which covered things like variables, operators, and loops, Google has added two new classes to Grasshopper.
Grasshopper's new classes are 'Using a Code Editor' and 'Intro to Webpages'. The latter teaches the student more about HTML, CSS, and JavaScript.
After the student has completed all three classes, they should be ready to build a simple webpage. Students can then go on to more advanced classes offered by sites like Codeacademy and Udacity armed with some basic knowledge.