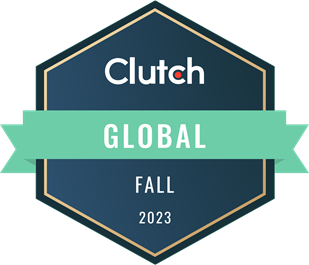 Batroun, Lebanon 16, November 2023— COMPU-VSION SARL, today announced its recognition as a 2023 Global Award winner for websites and mobile app developer services on Clutch, the leading global marketplace of B2B service providers. Honorees are selected based on their industry expertise and ability to deliver, scores that are calculated based on the client feedback from thousands of reviews published on Clutch. For the sixth consecutive year, Clutch has honored its top B2B companies with the Global Award designation.
COMPU-VISION SARL is honored to be recognized as a 2023 Fall Clutch Global Award winner. This award is a testament to the excellent client work we have delivered this year as recognized through the voice of our customers in their reviews on Clutch. We're proud to be recognized as a websites and mobile app developer leader on a global scale. Clutch Global Awards showcases the very best in the B2B services industry worldwide.
"We're honored to be recognized as a Clutch Global Award winner, solidifying our position as a leader in our industry worldwide! This achievement reflects our unwavering dedication to delivering top-notch solutions. Thank you to our clients and partners for trusting us on this global journey!"— Dr. Fares Saab (Ph.D.), CEO of COMPU-VISION S.A.R.L.
"We are thrilled to showcase the incredible success of leading companies worldwide on our platform," said Sonny Ganguly, Clutch CEO. "Their dedication to delivering outstanding services has not only contributed to their own success but has also empowered countless clients to thrive. We aim to highlight this year's industry frontrunner and facilitate connections for Clutch users seeking top-notch services tailored to their specific needs."
View our recent work and reviews on our Clutch profile: https://clutch.co/profile/compu-vision-sarl .